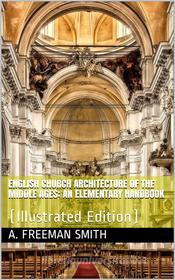 English Church Architecture of the Middle Ages / An Elementary Handbook. E-book
---
Download immediato
Editore:

iOnlineShopping.com

Data di Pubblicazione:

gennaio 2019

Dimensione:

1.27 MB

Formato:

PDF

Protezione:

Non Protetto

Dettagli Protezione:

Nessuno

EAN:

9788892597648
Illustrated
with one hundred and fifty-four Drawings
by Joseph Pennell


The object of this little work is to give an outline of the leading characteristics of Gothic Architecture, as found in churches of the Middle Ages in England. And it is hoped that it may be found useful to those visiting those noble buildings, whose antiquity and inseparable connection with the history of the country in their growth and development, in addition to the highest purpose for which they were erected by the faithful followers of the Founder of the Christian Faith, entitle them to veneration and careful study in the realms of history, art, and religion.

Its purpose as a handbook is to explain the origin and use of some of the forms which are presented to the eye of the visitor to these ancient monuments, not as being the result of caprice, or mere æsthetic motives, but as derived originally from a deep conviction of the living truth which their founders professed, and which they attempted to express in all their constructive work.

It is intended that the book may also be found useful as an elementary introduction to the study of Gothic Architecture through the many elaborate and exhaustive treatises which are published on the subject. To such students, literary study should be supplemented by personal acquaintance with buildings recognised as standards of excellence.

The Introduction deals with symbols as the motive of Gothic design. In the following pages the various periods of English Gothic are defined by their predominating forms and ornaments dating from the seventh to the sixteenth centuries. Simple examples have been chosen in order to avoid the confusion which might result from the choice of more complex illustrations.

---
---
Prodotti correlati