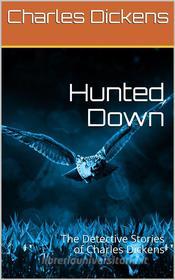 Hunted Down: The Detective Stories of Charles Dickens. E-book
---
Download immediato
Editore:

iOnlineShopping.com

Data di Pubblicazione:

febbraio 2019

Dimensione:

0.37 MB

Formato:

PDF

Protezione:

Non Protetto

Dettagli Protezione:

Nessuno

EAN:

9788832529265
Charles Dickens was one of the great pioneers of detective fiction. While the larger-than-life characters in his novels have settled themselves in the public imagination, his detectives have had a profound effect on the development of crime fiction, and Dickens is now seen as the first major publicist for the police detective. Here, Peter Haining has assembled a fascinating selection of Dickens's detective stories. Added to these are extracts from the novels in which the men of the law make their mark, including Mr. Nadgett from Martin Chuzzlewit, the first serious detective in an English novel, and Inspector Bucket from Bleak House.

This is one story, not a collection; but, for any reader who enjoys detective fiction, "Hunted Down," is an enjoyable read - both by itself and in consideration of its status as one of the first significant works in this genre. This story was published in 1859, so it is natural that the language and style of Charles Dickens seem somewhat encumbered, although it should be noted that the Sherlock Holmes stories that Arthur Conan Doyle began to write less than 30 years later do not have this handicap. But there are several positive elements of Dickens' nineteenth century style. For example, when Mr. Slinkton says, "I never repeat what I hear; it is the only way of paring the nails and shaving the head of Rumour," the reader appreciates this descriptive figure of speech that seems to have disappeared from contemporary English.

This tale is told from the first person perspective of a retired manager of a life assurance (insurance) office. As the story begins, Mr. Dickens seems to spend more time than necessary on the topic of physiognomy; but, after that, the storyteller holds the reader's attention much more effectively, and somewhat deceptively, to a well-developed conclusion.
---
---