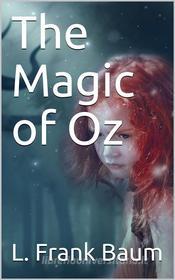 The Magic of Oz. E-book
---
Download immediato
Editore:

iOnlineShopping.com

Data di Pubblicazione:

dicembre 2018

Dimensione:

0.48 MB

Formato:

PDF

Protezione:

Non Protetto

Dettagli Protezione:

Nessuno

EAN:

9788829578832
The Magic of Oz: A Faithful Record of the Remarkable Adventures of Dorothy and Trot and the Wizard of Oz, Together with the Cowardly Lion, the Hungry Tiger and Cap'n Bill, in Their Successful Search for a Magical and Beautiful Birthday Present for Princess Ozma of Oz is the thirteenth Land of Oz book written by L. Frank Baum. Published on June 7, 1919, one month after the author's death, The Magic of Oz relates the unsuccessful attempt of the Munchkin boy Kiki Aru and former Nome King Ruggedo to conquer Oz.

The novel was dedicated to "the Children of our Soldiers, the Americans and their Allies, with unmeasured Pride and Affection."

At the top of Mount Munch lives a group of people known as the Hyups. One of their numbers, a Munchkin named Bini Aru, discovered a method of transforming people and objects by merely saying the word "Pyrzqxgl". After Princess Ozma decreed that no one could practice magic in Oz except for Glinda the Good Witch and the Wizard of Oz, Bini wrote down the directions for pronouncing "Pyrzqxgl" and hid them in his magical laboratory.

When Bini and his wife are at a fair one day, their son Kiki Aru, who thirsts for adventure, finds the directions and afterwards transforms himself into a hawk and visits various countries outside the land of Oz. When he alights in the land of Ev, Kiki Aru learns that he needs money to pay for a night's lodging (versus Oz, where money is not used at all) and changes himself into a magpie to steal a gold piece from an old man. A sparrow confronts the then-human Kiki Aru with knowledge of the theft, and Kiki says that he did not know what it was like to be wicked before, he is glad that he is now. This conversation is overheard by Ruggedo, the Nome who was exiled to the Earth's surface in Tik-Tok of Oz, and he sees through Kiki Aru's power a chance to get revenge on the people of Oz.


---
---