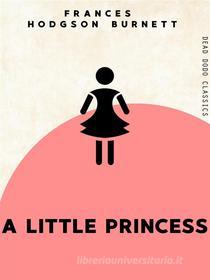 A Little Princess. E-book
---
Download immediato
Editore:

Dead Dodo Publishing Limited

Data di Pubblicazione:

aprile 2018

Dimensione:

0.4 MB

Formato:

EPUB

Protezione:

Non Protetto

Dettagli Protezione:

Nessuno

EAN:

9788828312017
A Little Princess is a 1905 children's novel by Frances Hodgson Burnett. It is a revised and expanded version of Burnett's 1888 serialised novel entitled Sara Crewe: or, What Happened at Miss Minchin's Boarding School, which was published in St. Nicholas Magazine. According to Burnett, she had been composing a play based on the story when she found out a lot of characters she had missed. The publisher asked her to publish a new, revised story of the novella, producing the novel.

Based on a 2007 online poll, the National Education Association named the book one of its "Teachers' Top 100 Books for Children." It was one of the "Top 100 Chapter Books" of all time in a 2012 poll by School Library Journal.

The novella appears to have been inspired in part by Charlotte Brontë's unfinished novel, Emma, the first two chapters of which were published in Cornhill Magazine in 1860, featuring a rich heiress with a mysterious past who is apparently abandoned at a boarding school.
The thread of the book is evident in the novellas, in which Sara Crewe is left at Miss Minchin's, loses her father, is worked as a drudge, and is surprised with the kindness of an Indian gentleman who turns out to be Captain Crewe's friend. However, at just over one-third the length of the later book, the novella is much less detailed.

Generally, the novel expanded on things in the novella; Captain Crewe's "investments" are only referred to briefly and generally, and much of the information revealed in conversations in the novel is simply summarised. However, there are details in the novella which were dropped for the novel. While a drudge, Sara is said to have frequented a library, in which she read books about women in rough circumstances being rescued by princes and other powerful men. In addition, Mr. Carrisford's illness is specified as liver trouble.

After writing Sara Crewe, Burnett returned to the material in 1902, penning the three-act stage play A Little Un-fairy Princess, which ran in London over the autumn of that year. Around the time it transferred to New York City at the start of 1903, however, the title was shortened to the one with which it became famous: A Little Princess. (It was A Little Princess in London, but The Little Princess in New York.)

The play was a success on Broadway, and it is probable that this triumph is what led Burnett to revise it yet again, this time as an expanded, full-length novel. Both versions of the book remain in print, although A Little Princess is better known.
---
---
Prodotti correlati