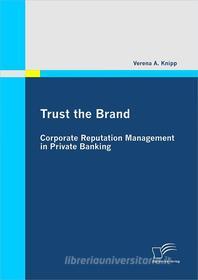 Trust the Brand - Corporate Reputation Management in Private Banking. E-book
---
Download immediato
Editore:

Diplomica Verlag

Data di Pubblicazione:

luglio 2017

Dimensione:

6.62 MB

Formato:

PDF

Protezione:

Non Protetto

Dettagli Protezione:

Nessuno

EAN:

9783836630580
Reputation is the sum of individual perceptions, experiences and beliefs in the mind of a company's stakeholder. Therefore, synchronous stakeholder communication and interaction has to respect the needs of all parties involved. Reputation management is the total of concepts, processes and structures that are directed towards the effective management of reputation within a company. It covers all activities to establish, preserve, improve and defend reputation systematically.
Private banking is a highly sensitive and trust requiring business. A strong bank brand and a healthy reputation are its key success factors. Private banks concentrate on prosperous clientele; therefore, they know that the loss of the good name is one of the major business risks. Although the significant role of reputation in private banking is commonly clear, a systematic management of corporate reputation is rarely.
This book investigates the current status of reputation management in private banking and identifies reputation drivers. Consequently, a survey on German private banks is being conducted. Based upon the findings, a structure for corporate reputation management under aspects of good corporate governance will be derived. Regarding corporate reputation management as a consulting product, opportunities for the consulting industry are presented in conclusion.
---
---